Ontario is a huge province with a plethora of activities to keep everyone involved. Whether you love getting out and about in nature or would prefer to enjoy the sights of the city, Ontario has something for you. Not only is this state home to the stunning Niagara Falls and the famous Blue Mountains, but it also features some epic National Parks, awesome bars and restaurants and a great range of festivals year-round to ensure hours of entertainment.
Between December and March Ontario is a winter wonderland but that doesn't mean the activities dry up or that everyone should stay inside. It's the opposite in fact! Ontario in winter offers some of the most unique, exciting and entertaining adventures that are fun for all the family.
Read on to find out about the best things to do in Ontario in winter…
Ontario, Canada in Winter: Things to Do and Festivals
Ontario Weather in Winter
It's safe to say that Ontario in winter is COLD! Most of the region lives in minus degrees throughout the whole of winter so it is absolutely vital that you dress appropriately to make the most of the trip. This means layers, and lots of them! Once you're wrapped up and ready, you'll be prepared to explore the province. Temperatures can reach -30°C which can be truly bitter when you factor in wind chill – therefore hats and scarves are a must!
Ontario's winter weather does mean that the snowy scenery is spectacular though and the freezing temperatures allow you to enjoy natural ice rinks, awesome snow-mobiling adventures and ice fishing excursions.
Outdoor Adventures in Ontario in Winter
Niagara Falls
Niagara Falls State Park in winter is a peaceful paradise, with fewer crowds and frozen landscapes making for an unforgettable trip. With trees doused in snowy sparkles and chunks of ice floating over the falls, seeing Niagra at this time of year is quite unlike any other. Some parts of the waterfall even appear to be frozen which make for incredible photographic opportunities.
The Blue Mountains
The Blue Mountains in Ontario are a real winter playground that allow you to enjoy snow-filled days on the slopes with skiing, sledding, snow-shoeing and caving all on the cards! With expansive snowy landscapes, miles of ski runs, luxurious accommodation, sumptuous spas and endless outdoor activities you can enjoy an epic vacation in one location.
Rice Lake
Just a couple of hours east of Toronto lies Rice Lake, an epic landscape that plays host to snow-kiting in winter. Whether you want to have a go on the ice yourself or would prefer to watch on from the sidelines, this fun activity makes for a wonderful weekend getaway from the city. Even when the snow-kiters aren't out, the scenery is worth seeing in itself!
Bon Echo Loop
For another amazing outdoor activity, try snow-mobiling along the Bon Echo Loop in Provincial Park. The snowmobile route takes you through some untouched landscapes giving you the chance to witness the magical winter forest in your own time. The loop is over 200km long so you can really make a day of it, stopping off for food and photos along the way.
Lake Nipissing
A classic Canadian tradition enjoyed in Ontario is ice fishing at Lake Nipissing. While sitting out in the snow can be chilly to say the least, digging your own hole and fishing right outside your cosy cabin is fun for all the family. You'll feel like a real explorer if you manage to catch your own fish and cook it up inside without the help of a supermarket or chef!
Torrance Barrens
The best way to view the Northern Lights is to get into the middle of nowhere, and luckily Ontario has just the spot! The dark sky reserve of Torrance Barrens lies just a few hours from Toronto but allows you to fully appreciate nature with epic sights of the Aurora Borealis dancing across the sky. The long dark nights of winter are the best time to see the lights so book your trip out to Torrance Barrens to see this stunning natural phenomenon.
Family Fun in Ontario in winter
Rideau Canal Skateway
No trip to Ontario in winter would be complete without a visit to the Rideau Canal Skateway in Ottawa. This UNESCO World Heritage Site becomes one of the largest ice rinks in the world as the whole thing freezes each winter allowing locals and tourists alike to skate for miles along the canal. This is an awesome way to see the city and watch the world carry on as normal while you are crazily skating on a frozen canal!
Matthews Maple Syrup
Frozen maple taffy is an incredible winter delicacy in Canada and Matthews Maple Syrup is one of the best places to enjoy this traditional treat. The sugar shack gives you the chance to learn about the maple production and see maple being thrown in the snow to create frozen taffy that we know and love! Spring then brings in a new year of sap tapping for new bottles of the golden nectar.
Hunstville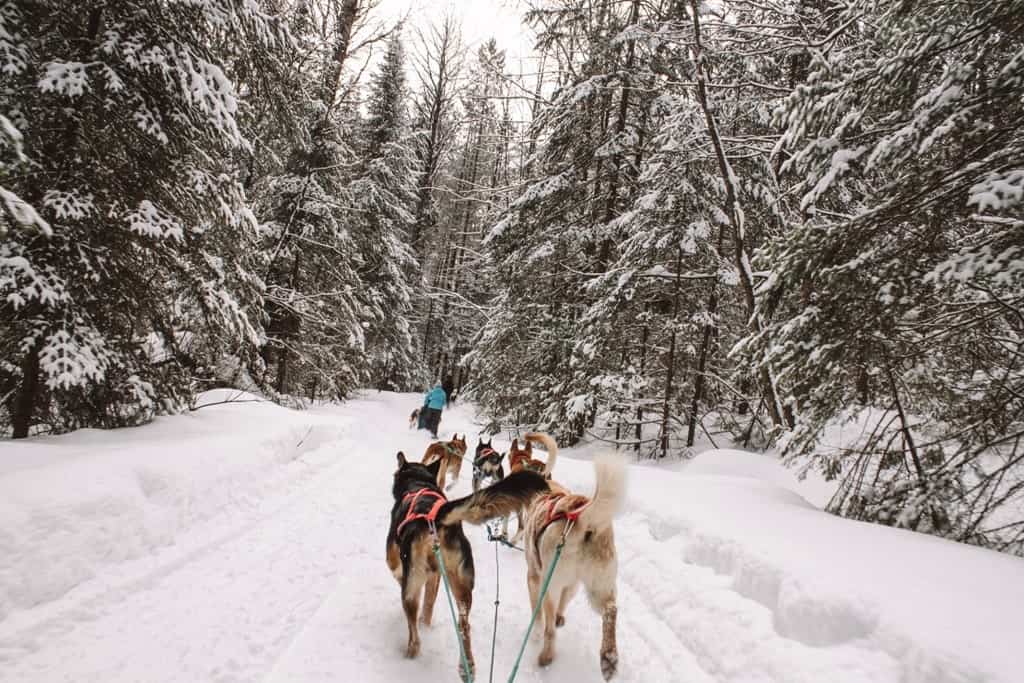 While dog-sledding used to be one of the main forms of transportation across long, snowy distances, Huntsville, Ontario now offers dog-sledding adventures that are a great family activity. Learn to mush and ride with your husky team as you travel through the winter wonderland of Muskoka before heading back to your hotel to warm up around a roaring fire.
City Sights in Ontario in Winter
Casa Loma, Toronto
The breath-taking beauty of the Gothic mansion, Casa Loma, will have you in awe for days thanks to its snow-kissed gardens and majestic turrets and towers that will make you feel as though you've stepped into a fairytale. Each year the Casa plays host to a Magical Winterland full of light displays and decorations to get you in the festive spirit.
The CN Tower, Toronto
Seeing the CN Tower rising up above the city while there's snow in the air is a wonderful sight, as is witnessing icy Lake Ontario from above. Travel up to the observation deck or restaurant where you can enjoy 360-degree views of the city. You might even want to brave the sections of glass floor where you can see the people in the city walking around like ants hundreds of feet below you!
Burlington
The beautiful city of Burlington in Ontario is another great winter destination. While the parks and gardens will be covered in snow, the city's galleries, museums and historical buildings are ready to warmly welcome you in year-round. The city is also home to a plethora of bars and restaurants with divine cuisine, live music and fun atmospheres for an evening to remember.
Festivals and Events in Ontario in Winter
Winter Bites Restaurant Week
The Winter Bites Restaurant Week in Windsor, Essex County is a fun way to try a variety of local dishes while still travelling on a budget! This festival of food allows you to indulge in a three-course meal at one of the county's best restaurants for less than $40 (sometimes even as little as $15!). This is an amazing winter activity that lets you stay warm while adding some layers for the cold winter months!
Parliament Hill for New Years
If you plan on being in Ontario, Canada for New Year, you'll want to wrap up and head over to Parliament Hill in Ottawa. The whole area is transformed into a winter wonderland and New Year celebrations are sure to be in full flow!
Each year it becomes the 'Hill of Lights' with hundreds of illuminations making it picture-perfect. Not only are the lights spectacular, but musical performances, traditional Canadian treats like BeaverTails, and warming cups of hot chocolate will help you ring in the New Year.
Stratford Winterfest
Winterfest in Stratford allows you to make the most of the magical icy wonderland with sledding, snow and ice carving competitions, fat biking, tai chi in the snow and igloo building! The festival also features plenty of activities for the kids such as face painting, train rides, ice skating and even a petting zoo. This is a family-fun fiesta for all those who love Ontario!
With lakes, mountains, cities, parks, waterfalls, and festivals for all the family, Ontario, Canada certainly has no shortage of things to do throughout the cold winter months.  The province sprawls from the cities of Ottawa and Toronto all the way to Hudson Bay in the remote north, so you can expect vibrancy and variety at every step of your journey.
While most parts of the province will be covered in snow in winter, you can still head out to explore as these Canadians know how to offer activities and adventures despite their extreme climate. Layer up, get out in nature, do as the locals do and you'll be sure to have an incredible time exploring this magical region in winter!